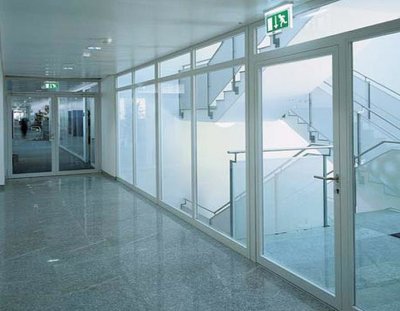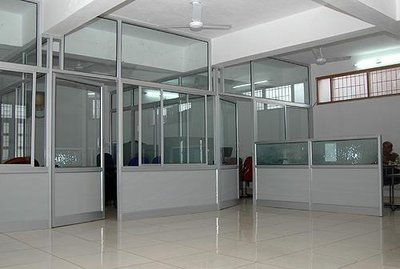 Aluminum fabricated items like doors, windows, staircase, hand rails and supports, railings for verandas, corridors etc. have become that standard accepted feature in most modern buildings, The use of aluminum in business and office complexes, buildings, theatres, auditorium is very extensive for functional as well as decorative purposes. Similarly in residential buildings also aluminum doors, windows, railings, grill works etc. are used extensively.
Textile shops and other trading shops in lighter materials too are going in for shelves made of aluminum for tacking purposes. The many advantages of aluminum such as lightweight, strength, corrosion resistance, durability, ease in fabrication, attractive appearance and easy maintenance make it a popular material for use in modern building.
Fabricators anodized these to desired colours and fabricate the items as per the customer's requirements. These items have good appearance and finish and the maintenance expenses are almost nil while steel and wooden items require regular painting and polishing periodically.
The development and construction activities being interlinked, there is good scope for aluminium fabrication units for meeting the growing demand of new building for offices, business and shopping complexes theatres etc. Aluminium fabricated and anodized items like doors, windows, railings, staircases, shelves; ladders, etc. are being increasingly used in the modern constructions on considerations of durability and appearance. In the present trend , theatres restaurants, hotels, shopping complexes, office premises and other luxurious building are fast replacing wooden materials with aluminium-fabricated items. The consumption of these items is on the increase.
Our company is offering a wide range of Aluminum Fabrication solutions by making use of quality aluminium to fabricate structures as required by clients. We are offering different design, sizes and other related aspects in our fabrication work.