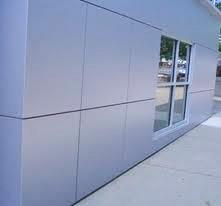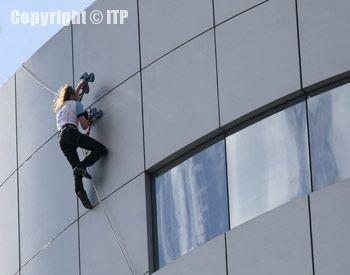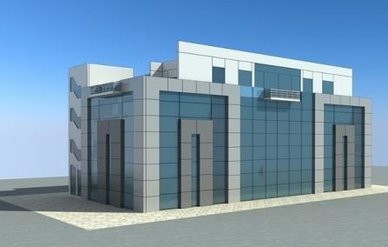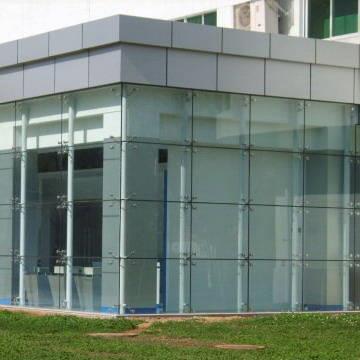 ACP CLADDING & GLIZING
ACP or Aluminum Cladding Panel is popular for its use in false ceilings, signage and partitions. The uniqueness of this form of cladding is, although it is light in weight but is sturdy in construction. These are widely used in designing transient structures such as trade show booths. The cladding is corrosion resistant, requires less maintenance, has excellent shine and is high on durability.
ALUMINUM COMPOSITE PANEL CLADDING
Aluminum Composite Panel Cladding (ACP) is a widely-used term, describing flat panels that consist of thermoplastic core bonded between two aluminum sheets. ACPs are frequently used for external cladding of buildings (building facades). The main advantage of ACP is that, it is very rigid and strong, despite of its light weight. Due to the ability of painting the aluminum in any colour, ACPs are produced in a wide range of metallic and non- metallic colours as well as patterns that imitate other materials, such as wood or marble. Applications of ACPs are not limited to building's external cladding; they can be used in any cladding application, partitions, false ceilings etc. Aluminum composite panel are available in various thickness and various brands. ACP sheet are excellent in finish and are PVDF coated which is up to 35 micron. It can be bent, cut, drilled, punched and easily shaped into complex shapes. Easy installation and fabrication save cost and time periods of construction.
Advantages
Ultra modern look and excellent flatness
Light weight
Sound insulation and pollution resistant
Acid, alkali and salt spray resistant
Smooth paint finish and stability of flatness
Excellent UV characteristics
Resistant to blow and breakage
Minimizes vibration noise
Heat insulation
Ease of installation and fabrication
Complex shapes possible
Easy maintenance
Superior flatness to other cladding products
Various color choice
STRUCTURAL GLAZING
The use of structural glazing in commercial buildings has increased in line with architects' and clients' vision and desire for ever more creative and eye-catching building facades. The most popular method of manufacturing these units is to bond the glazing to the frame using structural silicone.
Structural glazing is a system of bonding glass to an aluminum frame of curtain wall utilizing a high-strength, high- performance silicone sealant. These silicone sealants are specifically designed and tested for structural glazing. In this dynamic wind loads are transferred from the glass, by the structural silicone sealant, to the perimeter structural support.
In this system there will not be any aluminum member visible from outside. You will see a groove running horizontally & vertically. In this system the glass is held with the help of structural sealant.
It increases the thermal efficiency of buildings because the exterior exposure of metal framing is either reduced or eliminated, It reduces or eliminates water and air infiltration, It reduces the potential for thermal breakage of glass.
POINT FIXED GLAZING
Point-fixed structural glazing systems are the ideal solution for architects striving to achieve maximum light and transparency within large areas.
In this system glass units bolted together by means of stainless steel spiders, sometimes supported by glass fins, wire rope technology, Tension rod or some steel truss structures. This provides a frameless glazing façade through a web of glass sheet sealed together from the building structure. The joints between the panes of glass are sealed with a silicone sealant.
Depending on the choices made by the architect, the point-fixed structural glass wall can be supported by different types of structure: steel frame, structures made of stainless steel cable, glass beams, structures incorporating cross-braces, etc.
The system featuring monolithic, laminated glasses, and Insulating glass.
The system is intended for both exterior and interior applications, and is ideal for vertical and sloping walls. It can be used in shopping arcades, atriums, passageways, exhibition rooms, glass roofing, canopies, reception areas and other applications.