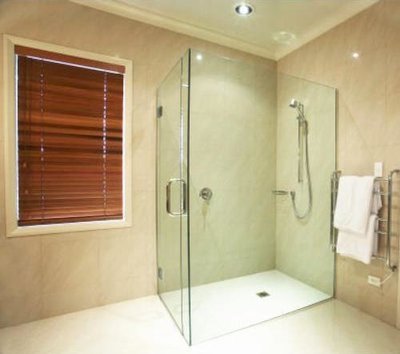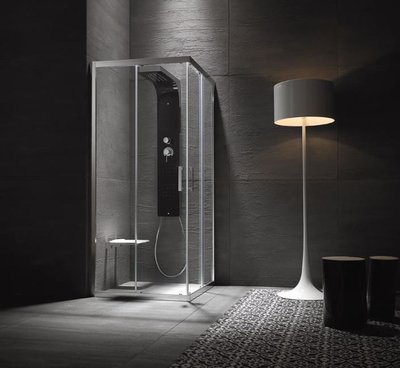 With any new home or remodel, the bathroom is a space of much design scrutiny. From the tile selection to whether or not the shower-head can remember your desired water temperature, everything about a bathroom is personal and intimate. Bathrooms may very well be the most personalized area of a home and we're noticing a promising design development; that homeowners are more apt to make design decisions about how they actually live rather than design based on what a typical bathroom is supposed to look like. This is leading to some bold moves –most notably is that we're designing and building dedicated showers either in addition to a separate bathtub or to replace the bathtub entirely .
Shadow Box By using the depth of the framed wall, most shower enclosures are capable of including a recessed pocket to hold shampoo, soap, your rubber ducky, etc. We like the detail because it's clean, modern and lends well to the philosophy that everything should have a place to be put away. There's typically about 14" of clear space between the vertical wall studs –which is enough space to sneak one of these in without changing the framing around. By the time the wall assembly is in place you've got about 12" of width. Because there are fewer limits to the height of the recessed box, we tend to maximize the vertical opening and install a glass shelf. Most important to the aesthetics of the box is that the opening align with the grout pattern. It's essential for the carpenter and the tile-setter to coordinate on this.
Drain Trough It always bugs us to see a shower floor where all the tiles are cut up into odd little angles and slopes to allow the water to drain correctly. We designed up a drain "trough" which allows the shower floor to sheet drain in one direction only. This keeps the shower tiles to full squares –no funny angles. The trough is then capped with a piece of bent, perforated sheet steel. The final composition is clean and modern.
Our entire endeavor lies in offering high quality range of Shower Enclosures to our diverse patrons. In compliance with set international standards and norms, we are presenting a wide assortment of enclosure by utilizing high quality materials and rock-solid glass. For appropriately utilize your bathroom space, we are offering this enclosure as per the customer requirements and specifications.
Open door
Toughened glass 10mm, twoway hinges, Door handles, Magnet seal, etc. Glass : Plain, Etching, Milky
Sliding Door
Sliding bar, Sliding wheel, Handle with towel rod, Silicone sealant, Glass beading, etc..